Thursday October 4, 2018
St. George Utah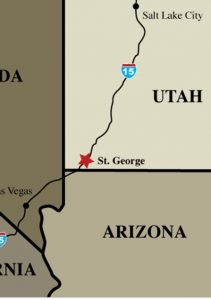 About 1,077 miles from the end of the Oregon Trail is a quaint little "Jumping off" place called St. George, in the Southwestern corner of Utah.
Our Journey to Utah was a smooth one. That is until we reached the shores of The Great Salt Lake!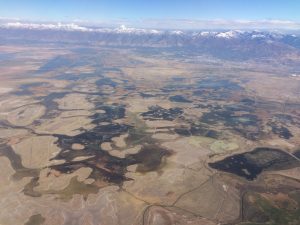 Here we were delayed by a passing thunderstorm and forced to take cover, and wait it out. But fortunately for us, it did not last long, and we were once again on our way. Consequently, it did not succeed in dampening our spirits one little bit! We arrived safely with our team, in the High Desert territory of St. George (2,860 ft.), late in the evening but in good cheer! Here the weather was warm and clear!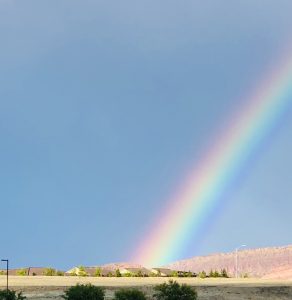 And lucky for us we were just in time for their famous Marathon!
Saturday October 6, 2018
St. George, Utah
The Marathon begins near the base of Pine Valley Mountain just out side of St. George, and runs a course made of a slightly downhill slope into St. George.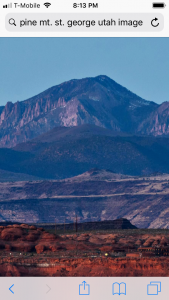 Pheidippides.
Let me tell you, with a name like that, I am glad to be recounting this story literarily, rather than in the oral tradition!
Now the reader may ask; what does Pheidippides have to do with any of this? A fair question indeed! I beg your indulgence for just a moment. And I will tell you.
As the account goes, this man Pheidippides, was a military "Day Runner" and sent a-scurrying to the town of Sparta, to request soldier re-enforcements. For it seems the Persians were invading Marathon, Greece in 490 BC.
Now this poor fella is said to have run 150 miles in two days! And then, as if that were not enough, he was sent to run yet another twenty-five miles. This time, from the battlefield near Marathon, to Athens to announce their great Greek victory!
Now this tale is old enough to be considered legendary, so I cannot vouch for its accuracy.
But this part is for certain, sure true.
During the 1908 London Olympics, a course was laid from Windsor Castle to White City Stadium. This is a distance of about Twenty-six miles. But to allow proper viewing for the queen and her court, another 385 yards was added, making the official Marathon 26.2!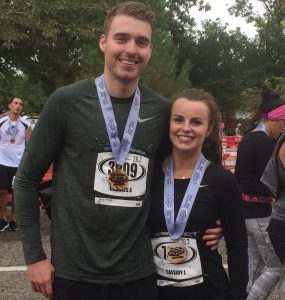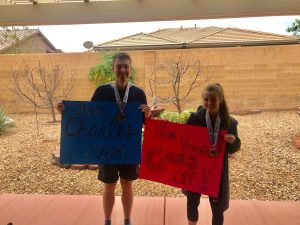 And just to keep this record straight, these two are number one, with me!

Snow Canyon
Sunday October 7, 2018
We spotted a spur off the main trail, so we took it!
The end of the road revealed a scene of towering, vivid sandstone cliffs as far as the eye could see!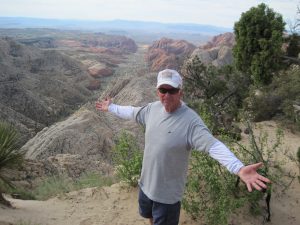 The sun made the colors more brilliant, and the shadows showed the rugged rock faces more dramatically.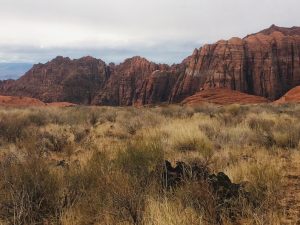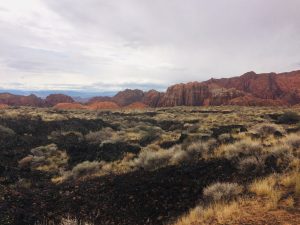 Only the human eye can comprehend the full effect!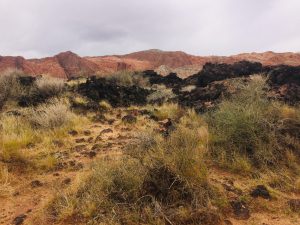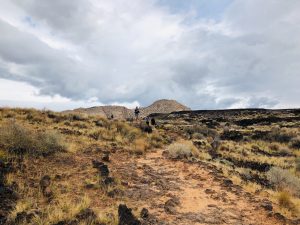 The Paiute Indians made practical use of these 7,400 acres as hunting and gathering grounds.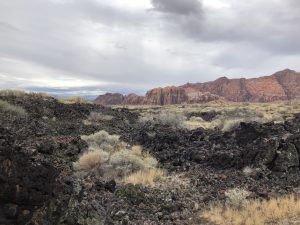 In the 1850's, Mormon Pioneers discovered the canyon in search of some lost cattle.
Snow Canyon is named for a couple of prominent Pioneer Mormon settlers.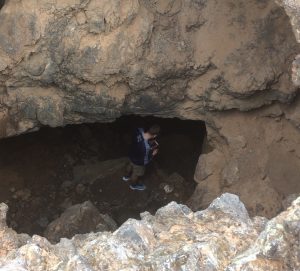 Over time, water cut and shaped these huge sandstone monuments. And ancient volcanic eruptions caused lava to flow into the canyon.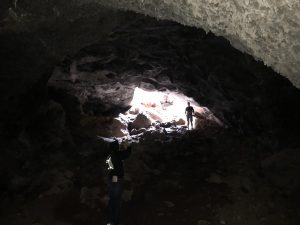 All of this geological activity has left in its aftermath some vast lava fields, punctuated with several underground caves.
We explored the 2.5mile "Lava Flow Trail."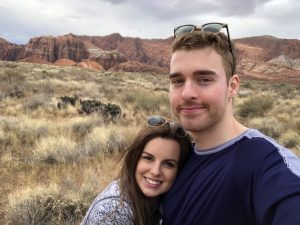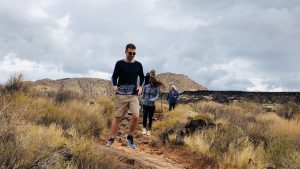 Snow Canyon is featured in such Hollywood hits as "Butch Cassidy and the Sundance Kid", "The Electric Horseman" and "Jeremiah Johnson!"

Bryce Canyon
Tuesday, October 9, 2018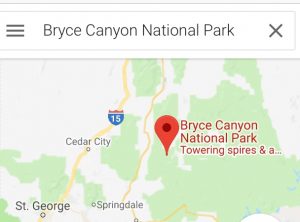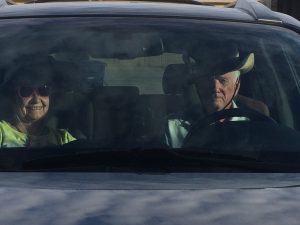 About 9:00 this morning, we filled the boot of our Stagecoach with great anticipation! It was a beautiful day and we were all excited to be on our way! Our Reins man and his conductor guided the team a short distance to the edge of town.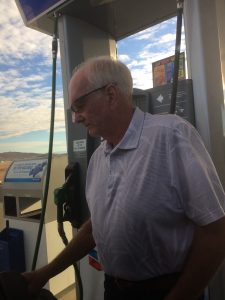 Charlie picketed the horses at the nearby way station for a quick feed. And then soon our Overland Stage was underway!
The trail took us Northeasterly, toward Dixie National forest. Travel was nice, smooth and clear, and mostly uneventful.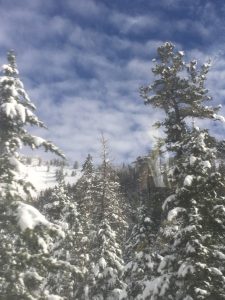 And then of a sudden, the road opened to a very pleasant surprise! Once we reached a height of about 10,000 feet, the terrain turned to a very beautiful winter-wonderland!
With no travel hazards ahead, it was wonderful to enjoy the striking beauty that surrounded us! Imagine if you will, the things that are not pictured. Mountainous, beautiful red rock, blanketed with freshly fallen snow. And these massive peaks warmed by the staple of every healthy forest, Evergreens, dotted in a dusting of snow! We were experiencing the peacefulness that can only be found in the forest. And then as if that were not treasure enough, we saw no less than seven deer scampering in the midst of the sunshine!
The coach continued on its way as we passed Panguitch Lake, and then we entered Red Canyon.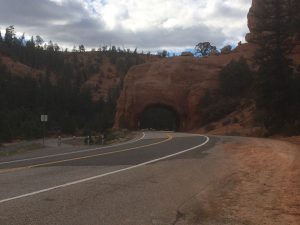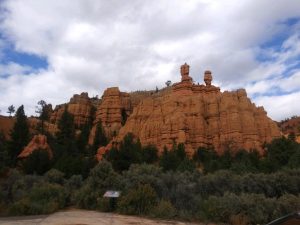 Again beautiful!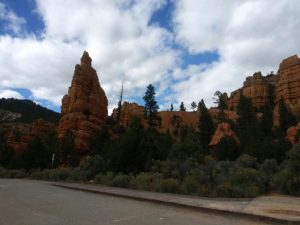 And just a taste of what was to come!
After a short hike through a forest dotted with Ponderosa Pine…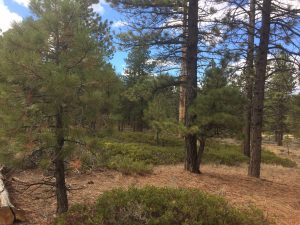 …we got our first glimpse of Bryce Canyon!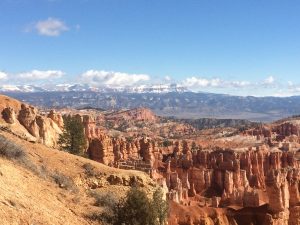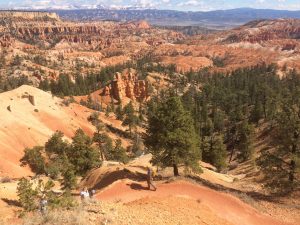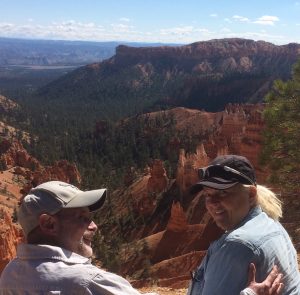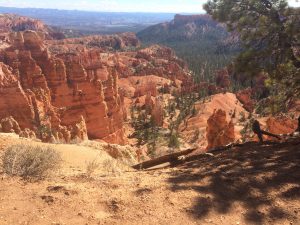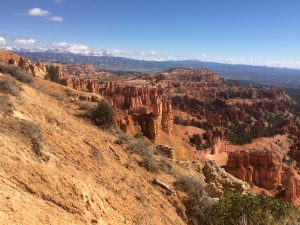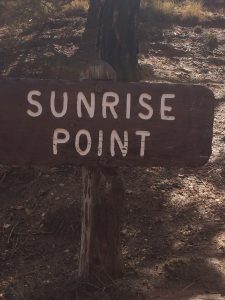 We arrived at Sunrise Point about mid-day.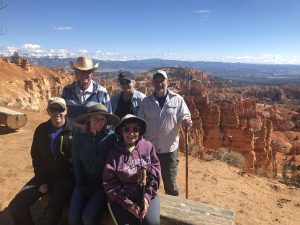 We began our decent at "Queens Garden Trail" to have a closer look into the Canyon!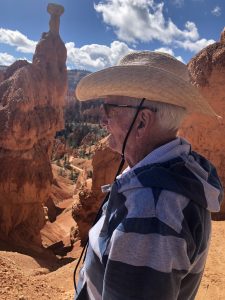 Our Trail Boss!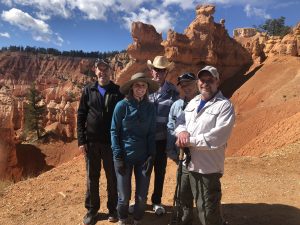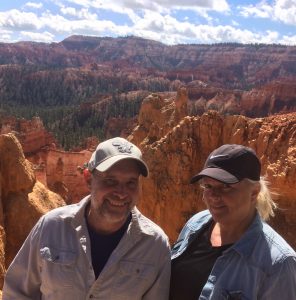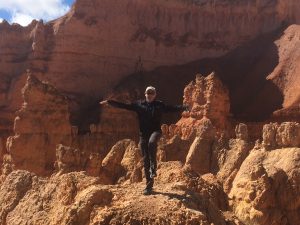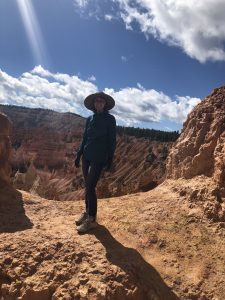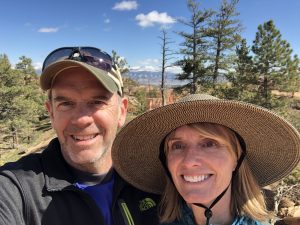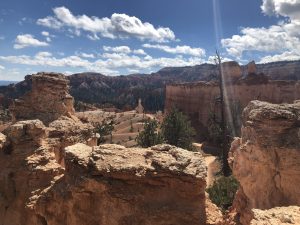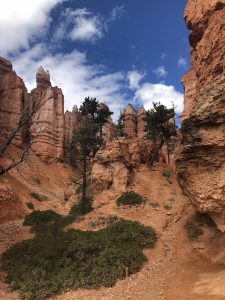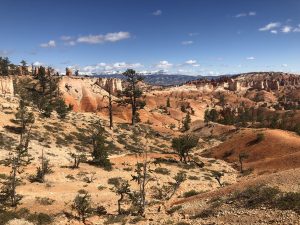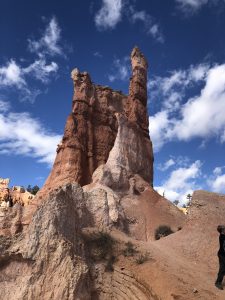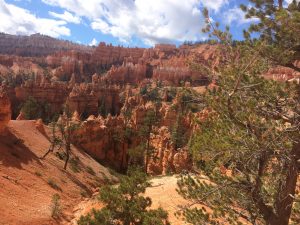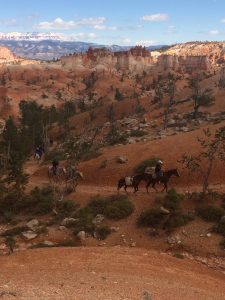 Some of our party went clear to the bottom of Bryce Canyon and connected with the "Navaho Trail" on the way back up!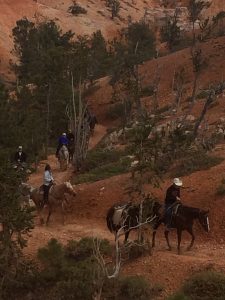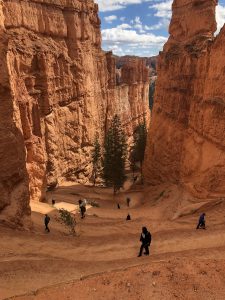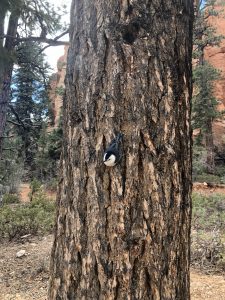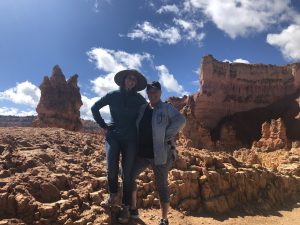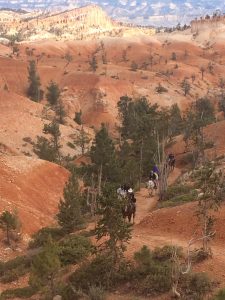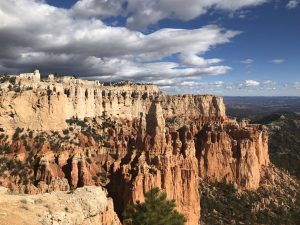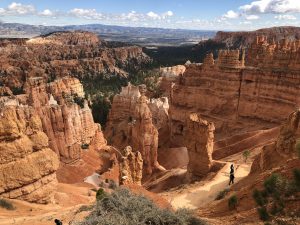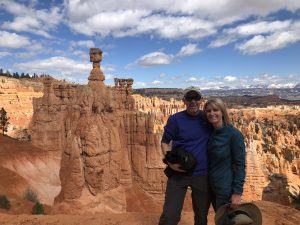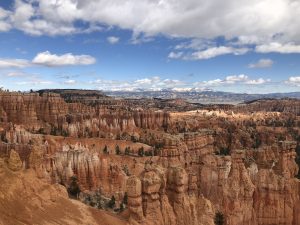 Wind, water and time have drawn the perfect panorama on this spectacular landscape. And the sun adds perfect accents!
Zion National Park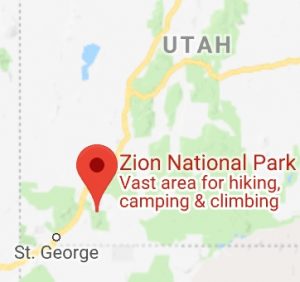 After a pit stop at The Home Station to enjoy some grub, the Stage was waiting for us. And we were once again on our way!
The Virgin River gets its beginnings in the Dixie National Forest, and we picked up its east fork as we left  Bryce and followed it into Zion.
Some faithful Spanish Catholic Missionaries called it "La Virgen" in honor of our Blessed Virgin Mary.
But then when Jedediah Smith led the first American exploring party through the region in 1826, he called it "Adams River" after our sixth President.
So which is it? "La Virgen"? Or "Adams River?"
Well, to my readers who are still following along, neither is the right answer!
It seems as though, yet another fella came along named John C. Fremont. He was a mapmaker. And he's the one who charted us on this course in our history. He stamped it "The Virgin River" after Thomas Virgin!
Now Thomas Virgin was apart of that first group of explorers who came through with Jedediah Smith, and John C. Fremont was also a fellow frontiersman. But weather or not the two were friends or even knew each other, I cannot swear.
In any case Fremont saw fit to print Virgin as the River's name, and it's all water under the bridge now anyhow!
Zion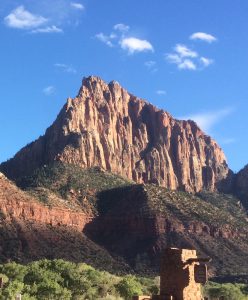 The word means "a place of refuge". It was first given the name by early Mormon Pioneers who farmed the area, and found it to be a natural fortress against the persecution that drove them west.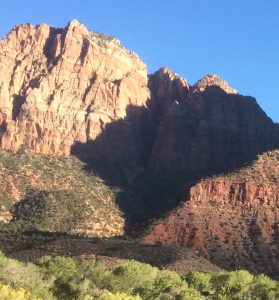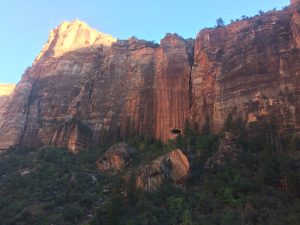 In the same way that the Hebrew refers to Israel as Zion, the Mormons saw Utah as their own sanctuary.
Natures' forces combined with father time, have created its dramatic canyons and towering mesas. Zion National Park is 147,000 acres of spectacular landscape.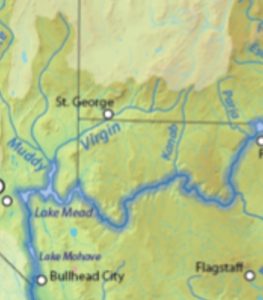 As we pulled away from Zion, we pick up the "Virgin" river again on our way back into Saint George.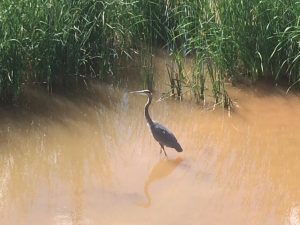 The River follows "The Old Spanish Trail" near the Confluence of both The "Santa Clara"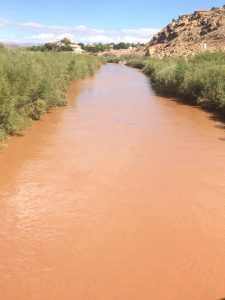 And "Virgin" rivers in Saint George.
As the Virgin River leaves Saint George, it makes its way through the Northwest corner of Arizona, then Southern Nevada when it finally empty's into "The Colorado" at Lake Mead.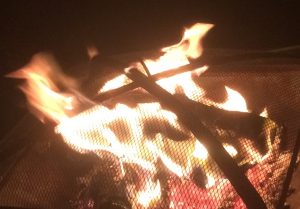 The evening brought with it a nice warm fire, good conversation and a night cap, celebrating all of the "tomorrows" ahead of us!

The Grand Canyon
Friday October 12, 2018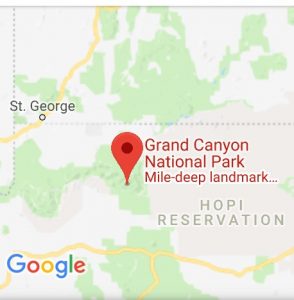 With a quick stop in Hurricane…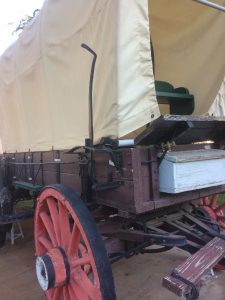 To reload our "Supply Wagon."
We were on our way to the Grand Canyon!
Our sites were set on North Rim Arizona! The road took us through Colorado City as we climbed to an altitude of about 5000ft.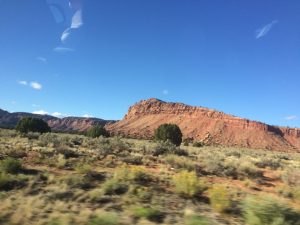 We made our way through Bunch Grass, Sage Brush and clusters of Evergreens as we traversed our way into this cattle country.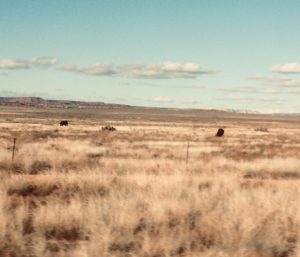 Not to be missed are the awesome Red Rock formations, Cliffs and Mesas!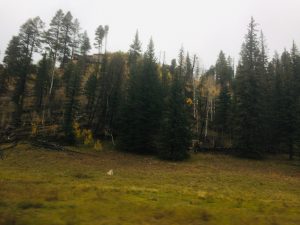 As we entered the Kaibab National Forest, fog began to set in!
In the early 1900's, Bison were introduced on the Kaibab Plateau near "The North Rim" as a ranching experiment to crossbreed Bison and Cattle.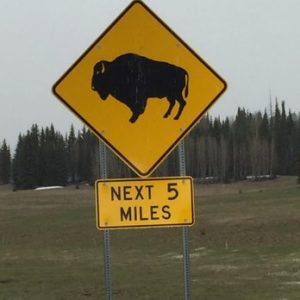 As we passed Jacob Lake, we saw Bison Sign!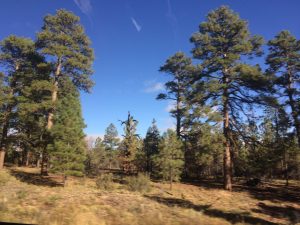 In the approach to our destination elevation (8,827ft.); A woman's intuition proved true!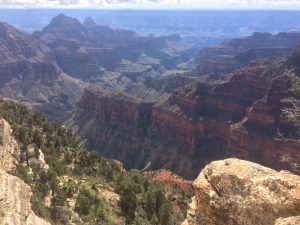 The fog swept away, and The North Rim clear!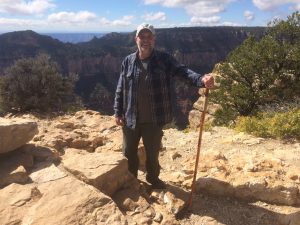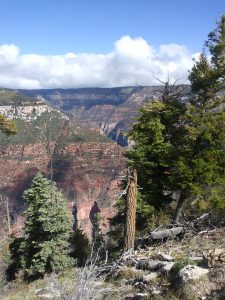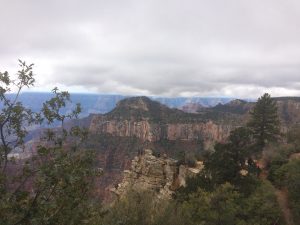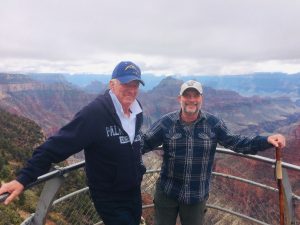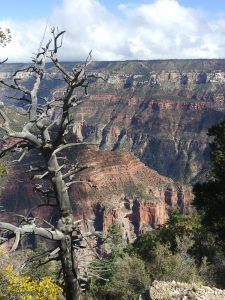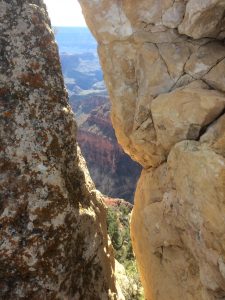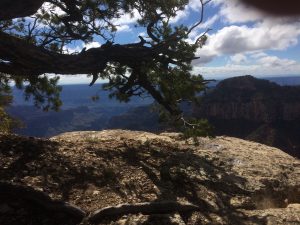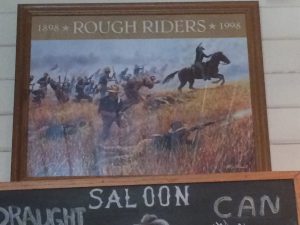 A shot-a Coffee at Teddy's "Rough Rider Saloon"…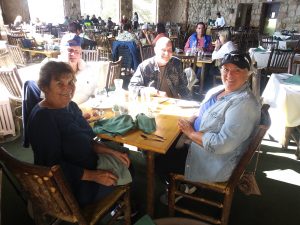 It was well past High Noon and we had a hunch, it was time for some lunch!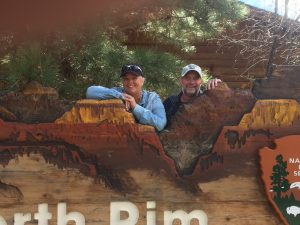 It was getting a little late, and sadly time to say, our time at The Rim was growing kinda slim…It was Great Day!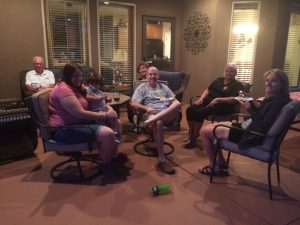 Back at Camp…
Nice cool desert nights, and warm hearts closed our evenings in Utah.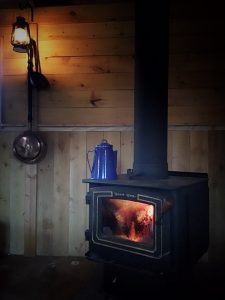 Until the next…
May God Bless you, with a wall for the wind, a roof for the rain, and a warm cup of coffee by the camp fire.