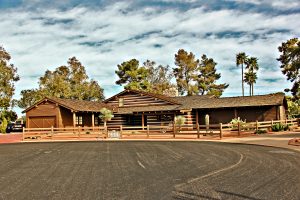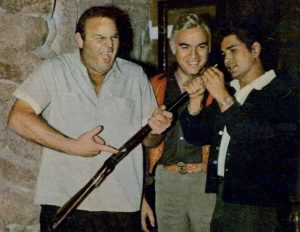 Sixty years of
Bonanza!

January 28, 2019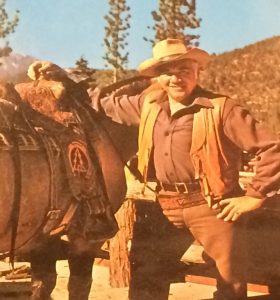 At The Round Up!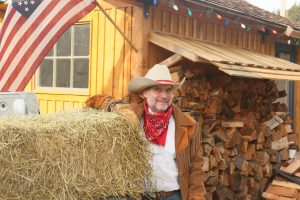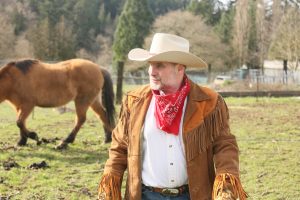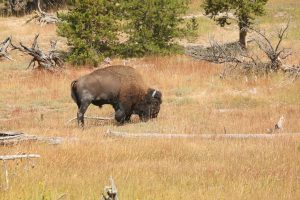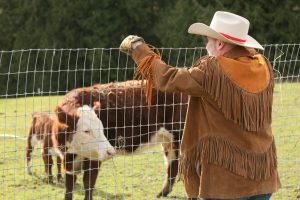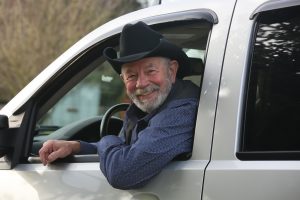 Top Hand Skip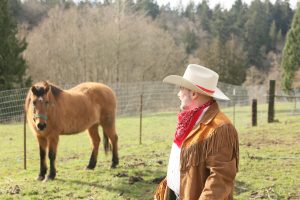 And I are getting our horses ready..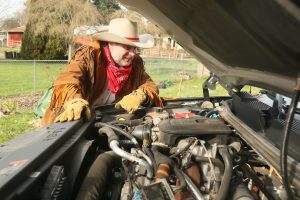 For our drive to Mesa!

February 16, 2019
The Branding…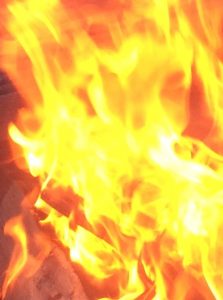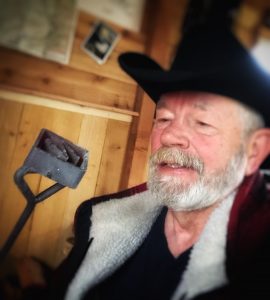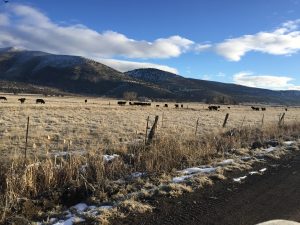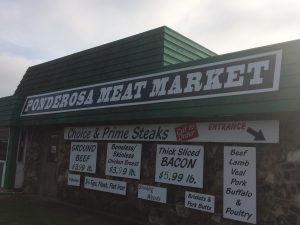 Saved the choice cut for the trail!!!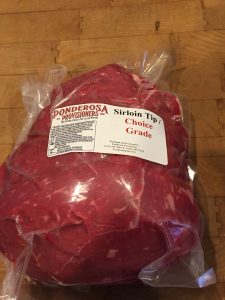 The Beef is ready to move!

February 17, 2019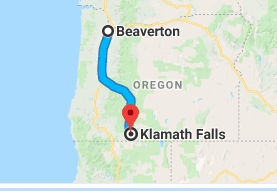 Turns out our team was revved and ready nearly a half day ahead of schedule. And we are not a couple of wranglers willing to argue with 365 horses…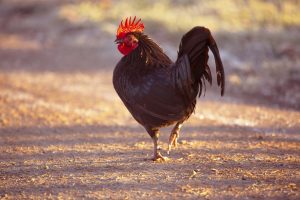 AAAWK!
Come-on! Get along little dogey!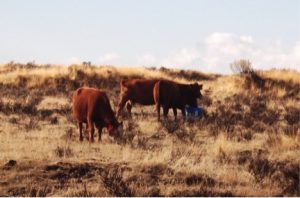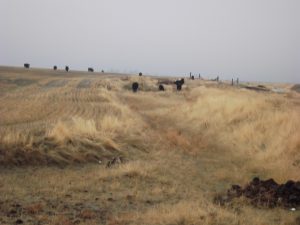 Dogey is cowboy short speak for dough-guts. The term came into use in the 1880's. It refers to orphaned calves left out on the range, often do to harsh weather. Many of these young-ins were not fully weaned from their mothers, so their tummies were not quite ready to digest the tough grass found out on the Range. This diet gave these calves Pot-bellies or Dough-guts. It also refers to calves that leave their mothers behind so as to allow the circle of life to continue.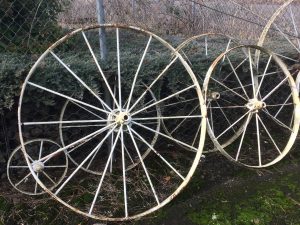 And so our cattle wagon is off to the…
 Bonanza Diamond Jubilee!!!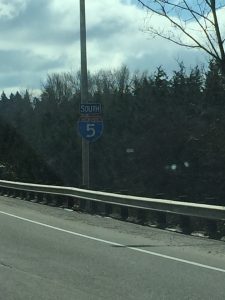 Our horses were running good and without effort.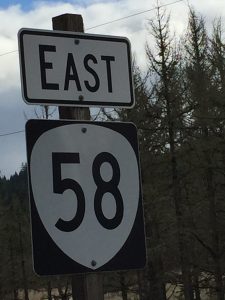 Along this section of the trail, we picketted the horses and wrestled up some grub.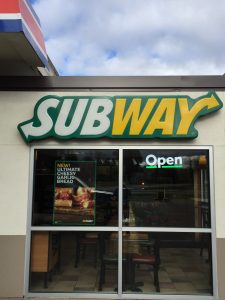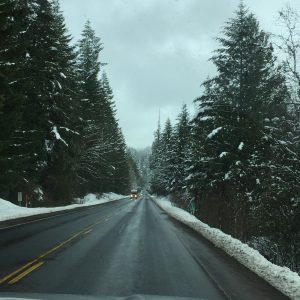 58 and 97 brought us over some beautiful mountain passes…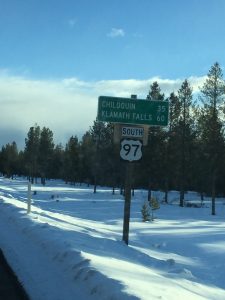 And we were also very glad that the team was well shoed.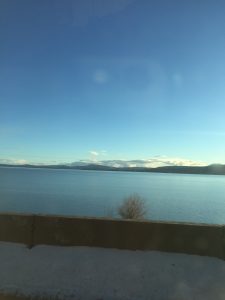 We slowed as we passed Klamath Lake and got a brief glimpse of a Bald Eagle.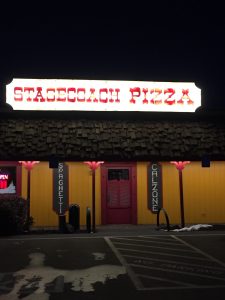 And fond memories started tricking back as we settled in for a meal, some good conversation and a bunk for the night. Klamath Falls is where this cow-puncher got his start. It was a good place for me! This turns out to be my first visit back to K-Falls in 35 years!
A good first day on the trail!

February 18th, 2019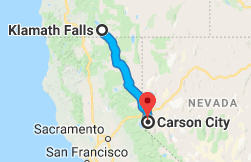 Being 10 degrees in Klamath Falls this morning…
… the wranglers were ready to swing into the saddle by sunrise.  Top Hand Skip got the dogies on the move and we were on our way!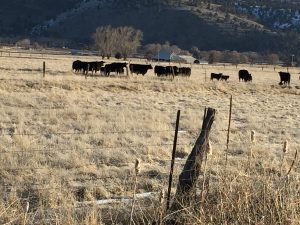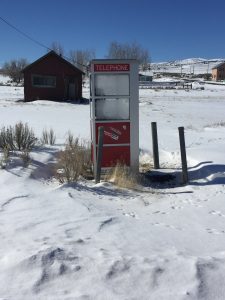 As we crossed into Californ-y, we called to the drovers we sent ahead, and they said Adin Pass was blocked with snow and we better find another route.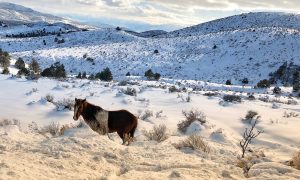 Twenty miles to the east was better going.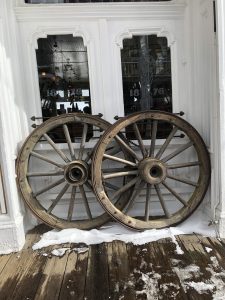 And the drovers got us to Virginia City by early afternoon.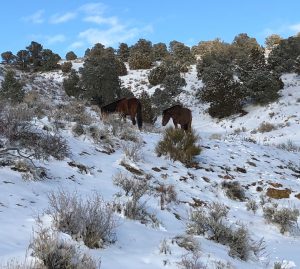 Wild horses couldn't keep them away!
We first had a burger at The Palace;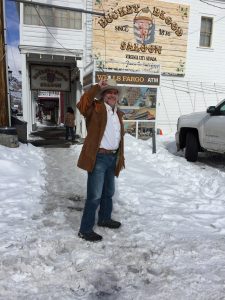 and then there was of course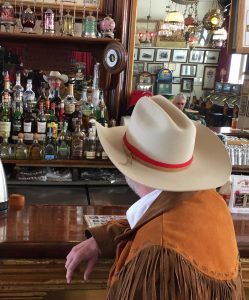 And…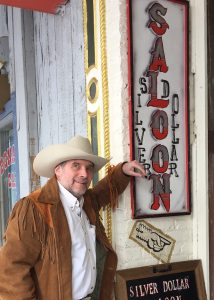 Luckily we got out of there before Sheriff Coffee had to chase us out…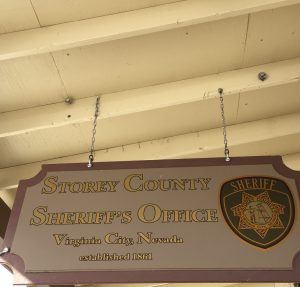 Virginia City was once one of the most vital cities…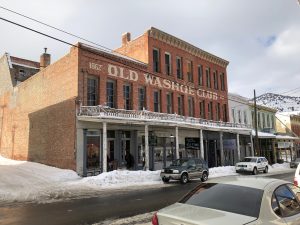 …between Denver and San Francisco.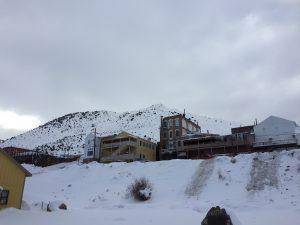 Miners excavated millions out of the mines, which equates to billions today.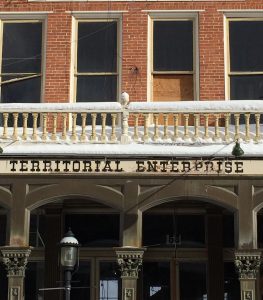 And it was the most frequently visited city by the Cartwrights!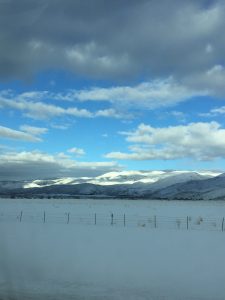 From Virginia City we headed to the North end of Washoe Lake…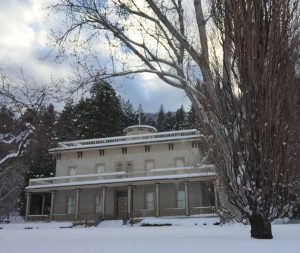 to have a look at Bowers Mansion.
It was built in the early 1860's and typical of the architectural style of Eilley Bower's native Scotland. The cost, about $300,000 to build.
The home is featured in Bonanza episode season one "The Saga of Annie O' Toole." And season eight's "The Greedy Ones."

February 19th, 2019
Carson City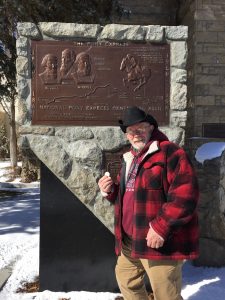 Some of the wranglers needed to send money back home, so we stopped by the Carson City Mint to get some cash.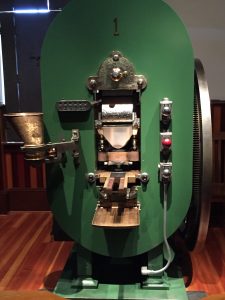 The mint was built in Carson City to facilitate the manufacture of coins from the silver coming out of the Comstock Lode. The mint struck coins here from 1870 to 1893. Each coin bore the mintmark CC for Carson City.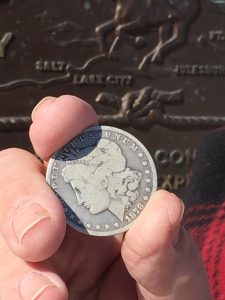 The Morgan Dollar was first struck here in 1878 and named after its designer George T. Morgan.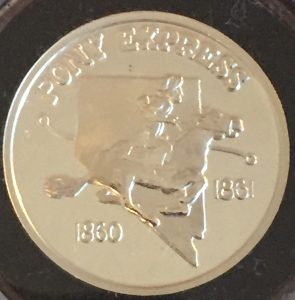 The Pony Express ran from St. Joseph Missouri to Sacramento California. Their riders covered the more than 1800-mile distance in ten days! Each rider road about seventy-five miles a day. The Pony Express operated from April 1860 to October 1861. It went right through Carson City.
Bonanza's season seven, two part episode "Ride the Wind" celebrates The Pony Express.

February 20th, 2019
Lone Pine California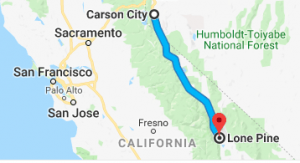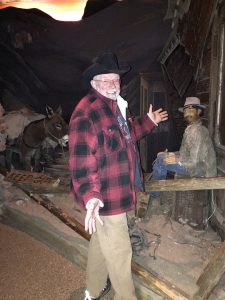 We got an early start as Top Hand Skip gathered our horses down at the Livery.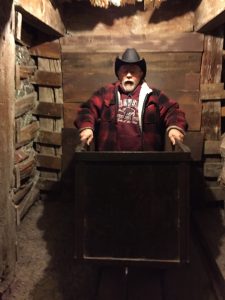 Our Point Man lead us South on 395 for one wild…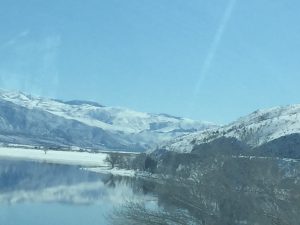 …And pretty drive.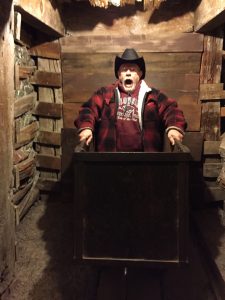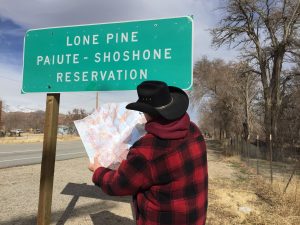 We arrived in Indian Territory at a place called Lone Pine.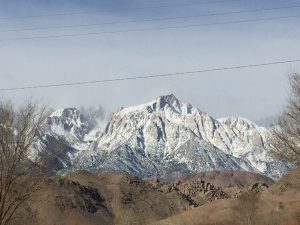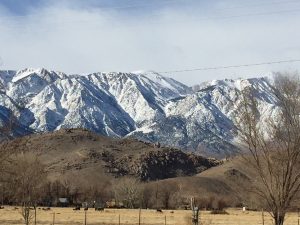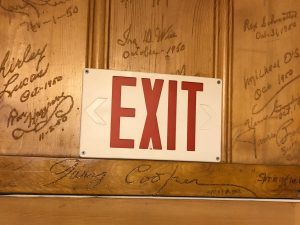 We stopped in at The Totem for some nicely prepared ribs.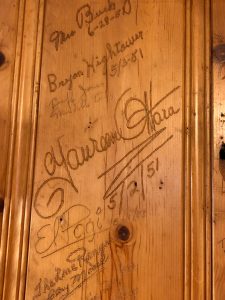 As it turns out, it seems that a lot of old cowhands have spent time at Lone Pine.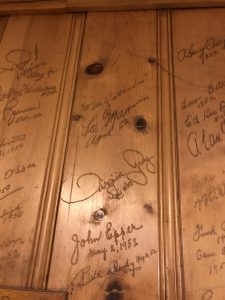 Hop-along Cassidy, Gene Autry and Roy Rogers just to name a few.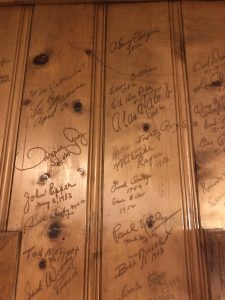 Clint Eastwood and John Wayne have also road the saddle in the Alabama Hills.
With all of this movie magic about…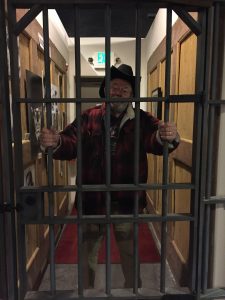 …we found ourselves a little detained.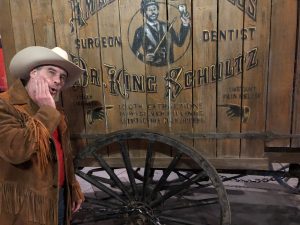 "The Pursed" another two-part episode of Bonanza, which aired in season eight is the only one filmed on location at Lone Pine.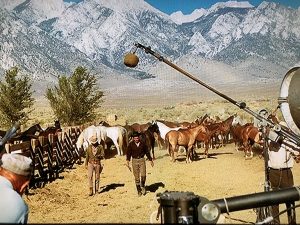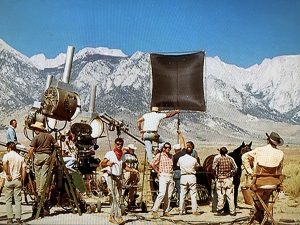 February 21, 2019
Mesa, Arizona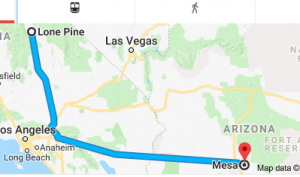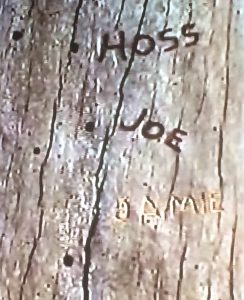 Look Skip!
It's the Witness Tree.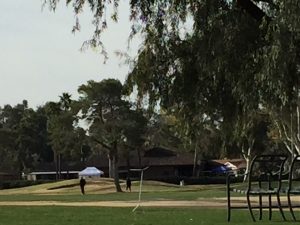 We are in Ponderosa Country!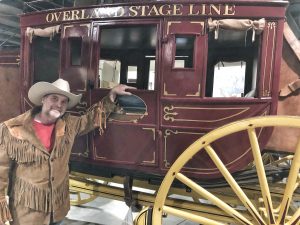 We arrived by stage…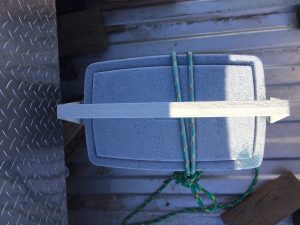 …to deliver the Ponderosa beef…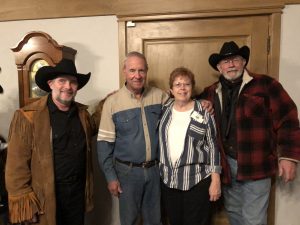 …to Tom and Louise the owners and guardians of the Ponderosa II.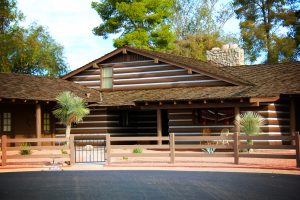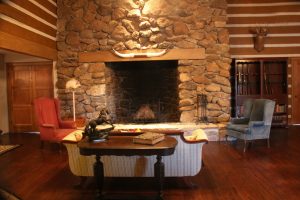 Here is a look at the Ponderosa II…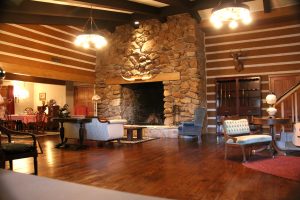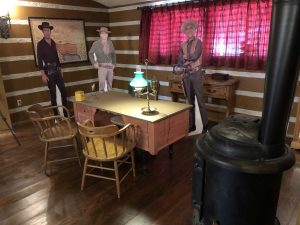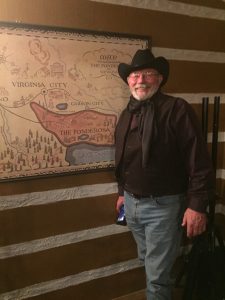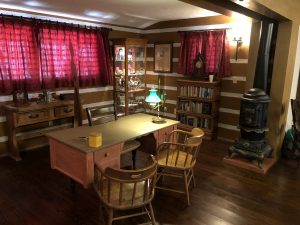 …and a synopsis of the great weekend we all had from Andy Klyde.

February 22-24, 2019
Mesa, Arizona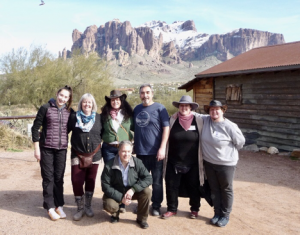 That's me, kneeling in front, Sunday February 24, 2019 at the Western town in the Superstition Mountains with several fantastic fans who traveled from Germany and Canada to help celebrate the 60th Anniversary of the television debut of BONANZA.
Returned recently from the fabulous BONANZA Diamond Jubilee weekend hosted by Tom and Louise Swann, proprietors of the Ponderosa II (built for Lorne Greene and Nancy Greene in Mesa, Arizona in 1963, from Paramount Studios set designer Earl Hedrick's original Ponderosa Ranch architectural plans). The event at the Swann home was sold out months in advance, and but for the Fire-marshal restrictions limiting the number of people in the house (where most of the activities occurred),  I'm sure many more folks would've signed up to attend in addition to the hundred-plus who were there.
Met lots of great people (enthusiasts from Germany, Norway, Australia, Wales, England . . . and of course across the U.S.), participated in a fun panel discussion hosted by historian Boyd Magers (alongside actors Mitch Vogel, Don Collier, casting director Susan McCray, actress Pamela Roylance, stuntman Neil Summers, singer Rex Allen, Jr., and guitarist Dick Goodman, who told tales of being part of the band that backed up Mike Landon at personal appearances several times in 1967).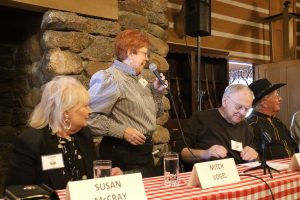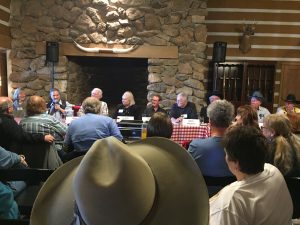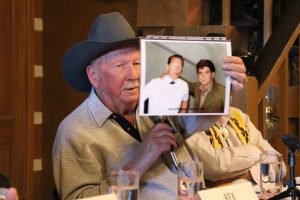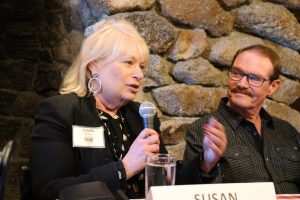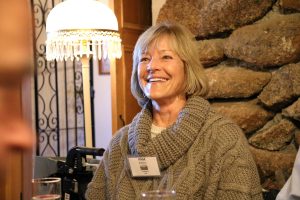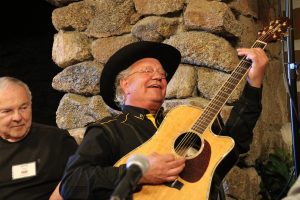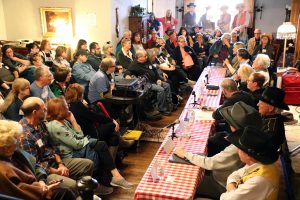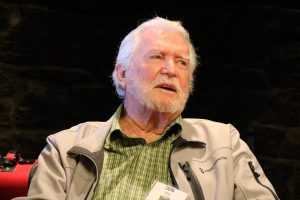 Actor Don Collier (perhaps best known as forman Sam Butler of The HIGH CHAPARRAL) was his usual charming self, regaling us with stories of working with all the "Cartwrights" (especially Dan Blocker).
Mitch Vogel shared priceless anecdotes, Susan talked about her beloved Kent McCray (and tales of Michael Landon), offered copies of her late husband's autobiography (highly recommended) and actress Pamela Roylance  (Little House: A new beginning) was delightful as she related stories from the set and Michael's kindnesses.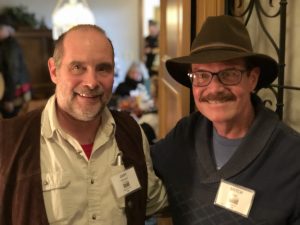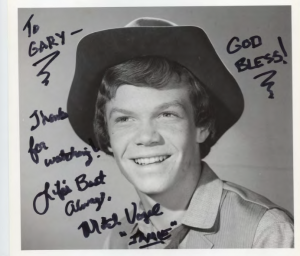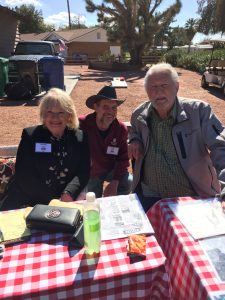 Susan McCray began her distinguished career on Bonanza and Continued with Michael Landon to Little House.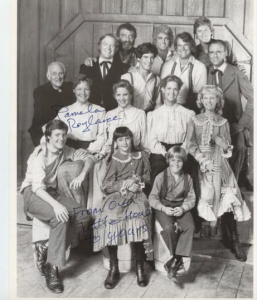 Actor Don Collier can be seen on BONANZA episodes: "The Mission", "The Good Samaritan", "The Flannel Mouth Gun", "Credit for a Kill" and "Saddle Stiff"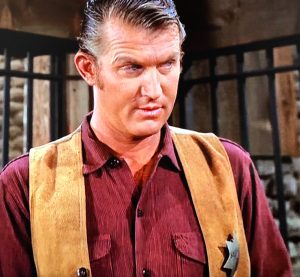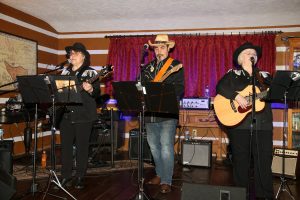 Heard some great tunes from the "house" band, the Ponderosa Pickers, had good 'cue plus make your own s'mores over an open fire for dessert one night, and delicious burgers the next (courtesy of the P Pickers, siblings Scott Tobias, Leta Tobias and Coleen Butz, a talented trio who can cook as well as sing),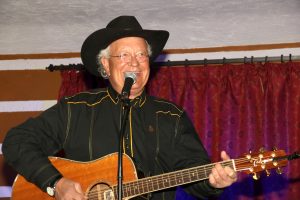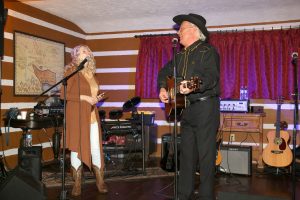 attended a breakfast cruise aboard a vessel reminiscent of the Dixie, which traversed a lake that evoked a small Lake Tahoe . . .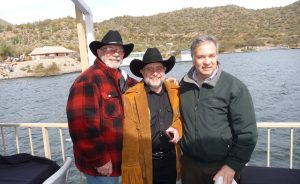 and chartered busses took us from the Arizona Golf Resort (where we slept when not participating in virtually non-stop fun-filled activities) to a picturesque Wild West "Ghost Town" in the Superstition Mountains near Apache Junction, where Lorne Greene filmed special commercials for Chevrolet in the 1960s.There we had a sumptuous lunch, watched a fun "wild-west shootout," and as an unexpected bonus,  I met (and several of us chatted with) a proprietor of Western souvenirs whose dad was a BONANZA story consultant.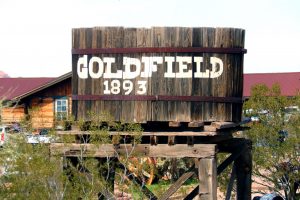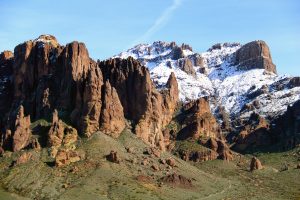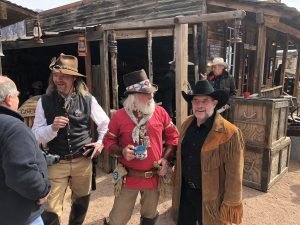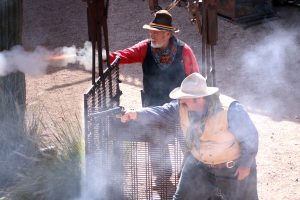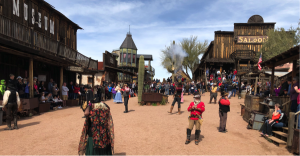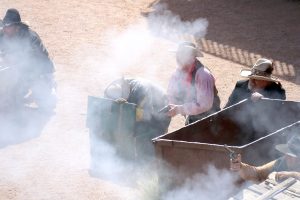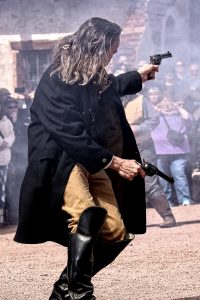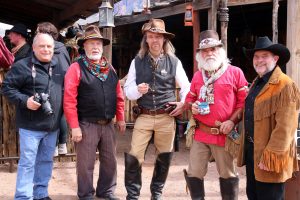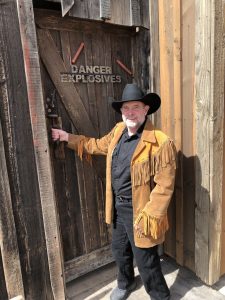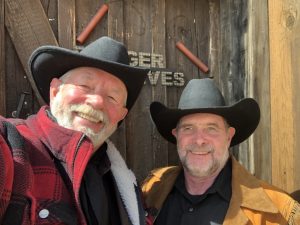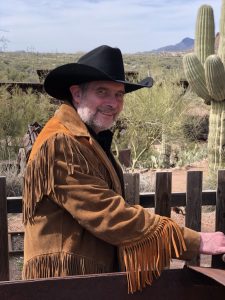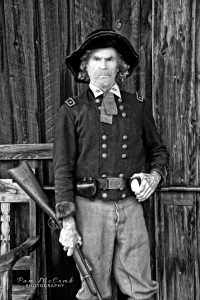 Watched amazing tribute videos produced by tremendously talented Carol Sullivan Trant…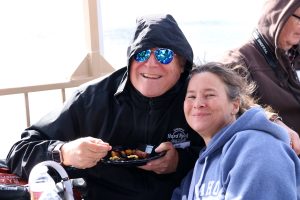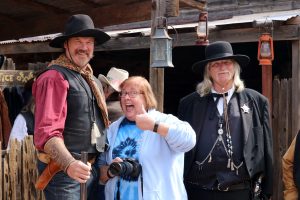 and award winning editor/director Ginger Brigham Cook (who was also hard -at- work videotaping all the festivities while her colleague, ace photographer "Bailey," snapped photos throughout the wonderful weekend). A CD of photos and a DVD of video highlights will be available as souvenirs.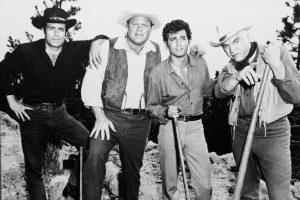 Attendees swapped lots of fun stories and experiences, watched cherished episodes together on a big screen by the fireplace in the Great Room of Ponderosa II, and I again presented the ever-popular "Andy's Rarities," featuring fan-demanded favorites like Mike Landon on Hullabaloo, Pernell Roberts with Ed Sullivan and Mike Douglas, a "day in the life" of Lorne Greene in 1963 (including time on the Ponderosa set and the rodeo circuit), PAX-Tv promos, the Cartwrights' visit to Sesame Street in 1971, and other rare gems.
And for the very first time, delighted fans heard  audio of the "Last Party" — recorded comments from Lorne Greene, Michael Landon, Mitch Vogel, Bing Russell, David Dortort, NBC exec. Tom Sarnoff and others, on the occasion of the last gathering of cast and crew, days after learning the show had been cancelled in November 1972. Mitch addressed the crowd afterward and I daresay there were more than a few pairs of misty eyes in the house while he spoke.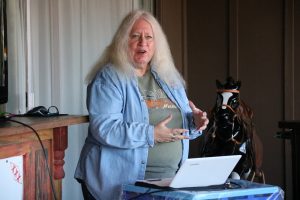 Folks attended a fascinating discussion of fan fiction and salute to BONANZA script-writers…
a fun-filled trivia contest…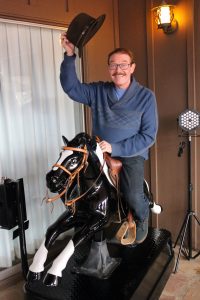 karaoke session…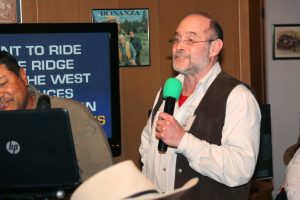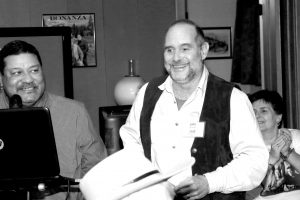 You should be on the Stage…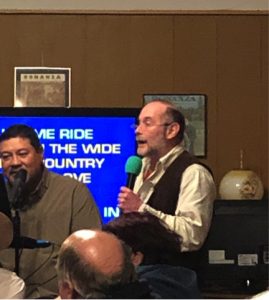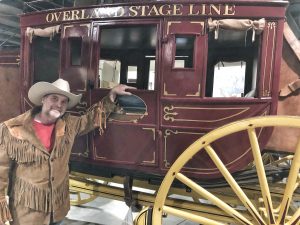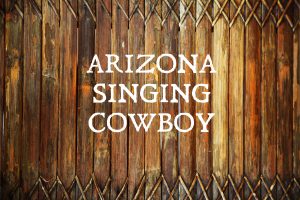 And Gary Sprague, a fine singer of Western songs and his talented horse, Dusty entertained.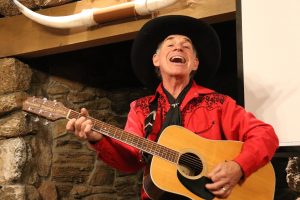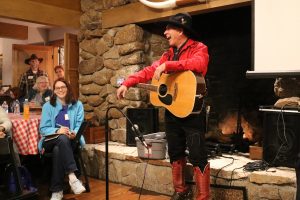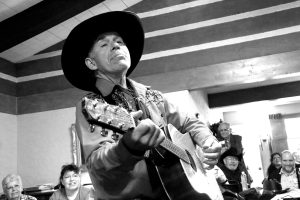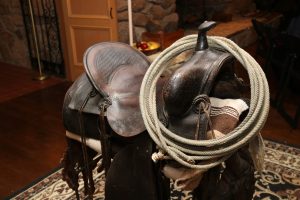 (The latter's exposure was limited because of the unseasonably wet and chilly weather briefly on Friday, but the weather failed to dampen anyone's spirits.)
Attendees were also thrilled to pick up some new never-before-printed from original negatives photos of your favorite Cartwrights and their horses, courtesy of yours truly,
plus official DVD season sets at discount prices.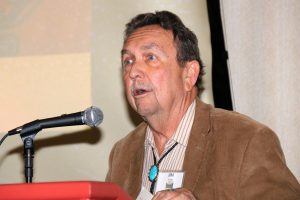 Renown historian Jim Turner returned to tell tales of real and reel life, this time emphasizing Bonanza Episode a "Look to the Stars."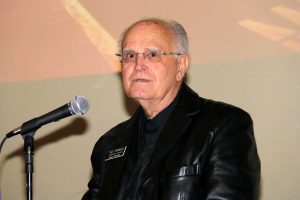 Earl Shroyer shared fascinating stories of the fabled Ponderosa Caravan, which toured the U.S. from 1967 through 1970.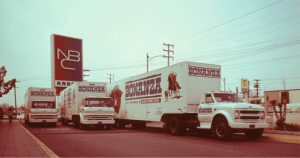 Anybody see the caravan at a state fair or other venue back in those days?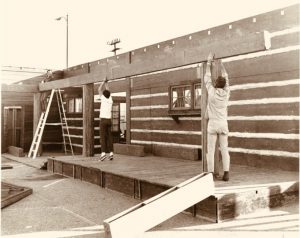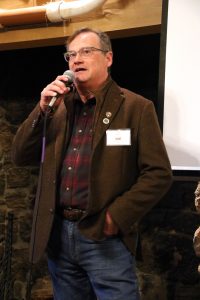 Bill Watson, curator of Thunderbird Lake Tahoe, a preservation and historical society, accepted an invitation to come and speak on the status of the ranch house built in Incline Village (visited by millions from 1967 – 2004), and donated by David Duffield to Thunderbird. Quite an informative and fascinating discussion.
I also announced CBS Home Entertainment–at long last –will release BONANZA: The official ninth Season on DVD on May 7, 2019. Viewers can again expect great bonus features as well as full-length episodes, newly restored and remastered from original 35mm film elements.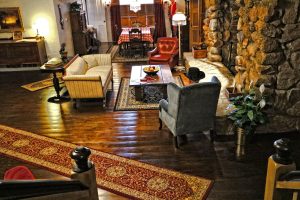 Instead of getting "A Good Night's Rest," I stayed up to read astonishing stories from fans about their personal BONANZA experiences. Truly inspiring (and a few heartbreaking) , plus special contributions from Mitch Vogel, Tim Matheson and Fred Dortort. I urge everyone who couldn't attend the once- in-a- lifetime Jubilee celebration to pick up copies of the supplemental booklets containing essays.
Fore more info. about the souvenir booklets, please contact me.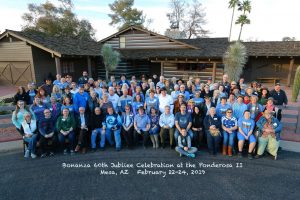 Best BONANZA wishes!
ANDREW J. KLYDE, Esq. | Archivist | Licensor, BONANZA Ventures
Consultant | Executive Producer, Value Added Material on DVD
141-15 72nd Avenue | Kew Gardens Hills, NY 11367-2331
(718) 261-4128 (telephone) | (718) 261-4428 (fax)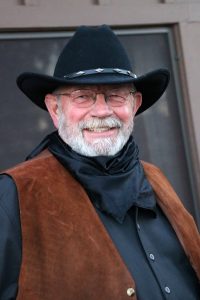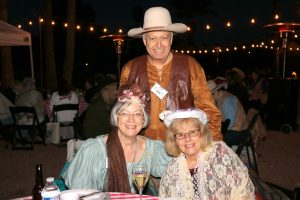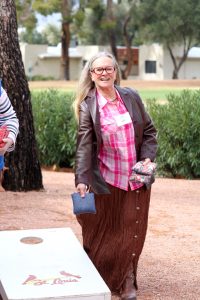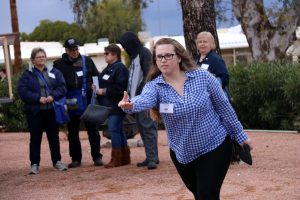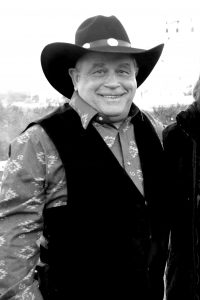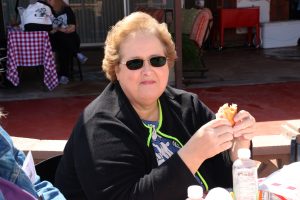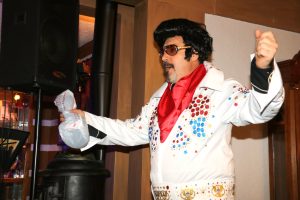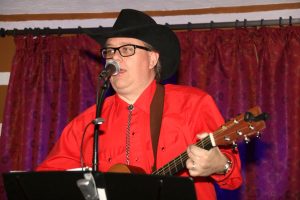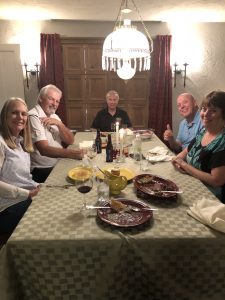 A Real Ponderosa Beef Feast!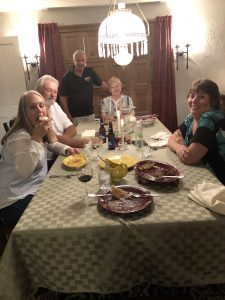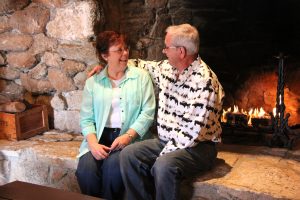 Thank you Tom and Louise for opening up your home to so many of us. It was a wonderful weekend!
AND We all wish you "Happy Trails"…
A note from our friends Tom and Louise.
"We wish to announce that we have sold the Ponderosa II. Tom and I will be heading to live closer to our family. Though we regret leaving Ponderosa II, and will miss all of the people we have met here and the fun times that were had, we will always be proud of the years of restoration, and historic register designations that the house has achieved under our watch. It truly is the right time for us to make this passage and leave Ponderosa II in the hands of another capable caretaker."
If there is a Bonanza event sometime and somewhere in the future, we will do our best to make it!
We thank you for the wonderful memories.
Louise and Tom Swann
Ponderosa II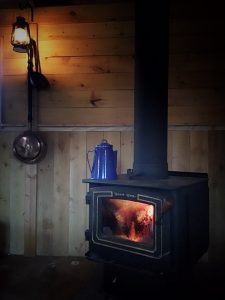 Until the next, May God Bless you with a wall for the wind, a roof for the rain and a warm cup of coffee by the campfire.
-Will